Social Media Marketing Training in Lagos - Online Social Media Training in Nigeria
Become a social media marketing expert with our social media marketing training in Lagos. Our social media training is provided online for those in Lagos and other parts of Nigeria.
Key areas of our Social Media course
Become a social media marketing expert
Learn this digital marketing skill to take your career to the next level. Our social media training in Lagos contains all you need to know to become an expert, whether you want to do social media for your business or take it as a career.
Social Media Training Details
What is covered in Social Media Training in Nigeria?
Learn digital marketing with a social media course that covers every aspect of this digital marketing area. Our lessons include:
Why is Media Marketing Training Important?
On average, people spend almost three hours on social media every day, and that number keeps increasing each year.
Social media is a great place because most people with access to the internet like to be on social media to get information and be entertained.
Sometimes, one may not want to buy anything but will get interested from viewing a video or picture on Instagram or other social media platforms. Like with any other Nigeria digital marketing avenue, you can take advantage of this by being where they are and presenting your products or services.
When social media marketing is done well, a brand can pull in millions of naira monthly. That is good for you as a social media marketer or a business owner because your efforts are valuable.
Furthermore, social media marketing is long-term. If you go viral today and get a ton of followers and keep posting interesting content and connecting your audience to your product, you can retain lifelong customers while gaining even more.
In addition, you can provide social media services for clients all over the world. People use platforms like Upwork to make thousands of dollars monthly from providing social media marketing services online.
Freelancers and entrepreneurs make a lot from social media marketing. Join them and become a digital marketing specialist by taking our social media marketing course today.
How much can be made from this digital marketing skill?
Business owners can earn millions of naira on average by boosting their digital marketing efforts on social media. Employees can be paid NGN200,000+ per month in Nigeria or get a monthly retainer from each business from NGN 50,000. From companies abroad, you can get an average of $3,000 monthly. Here's one Nigerian making five figures in dollars using Upwork to offer their services on a global scale.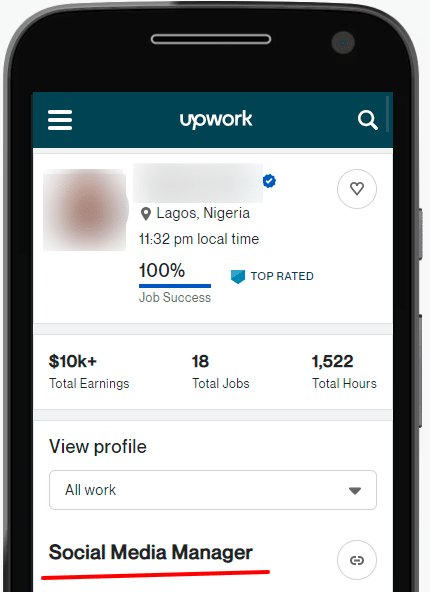 Special Offer - Sign Up at the Best Price​
Enrol now at an affordable price on the complete social media marketing training in Lagos.
Save Money on our Digital Social Media Training in Lagos & Nigeria
We can help you save fees on social media marketing training by allowing you to take only the areas you need. Here is what we offer.
This includes every part of our digital social media training in Lagos from the foundation, including all we mentioned above: organic marketing and advertising on all the platforms.
If you want to learn only how to do Facebook and Instagram ads that convert into sales and leads, enrol for this particular course. You will be able to set up and optimise ads on social.
This only includes Facebook & Instagram Ads. Note that this doesn't include conversion optimisation but only how to run ads from Nigeria. We can support you on this.
This course covers social media advertising on all the major social media platforms, including LinkedIn, Twitter, Facebook, and Instagram. Become a full ad professional.
How does our Social Media course in Lagos work?
Become a digital marketing professional with an online social media course that is easy to follow. When you enrol, you will get instant access to the online course. You can access it from your student dashboard by clicking on "login" on our website. We will also send the login details to your email.
In your dashboard, click on "enrolled courses" on the dashboard menu to see the course. Click on the course to access it. The course is arranged in modules with different lessons in each module. The lessons come in pre-recorded videos, texts, PDFs, Google docs, and spreadsheets. They are arranged to ensure you understand all aspects of the course.
We have a question and answer (Q&A) section, live chat, WhatsApp access, call access and email so you can contact the instructor for support at any time.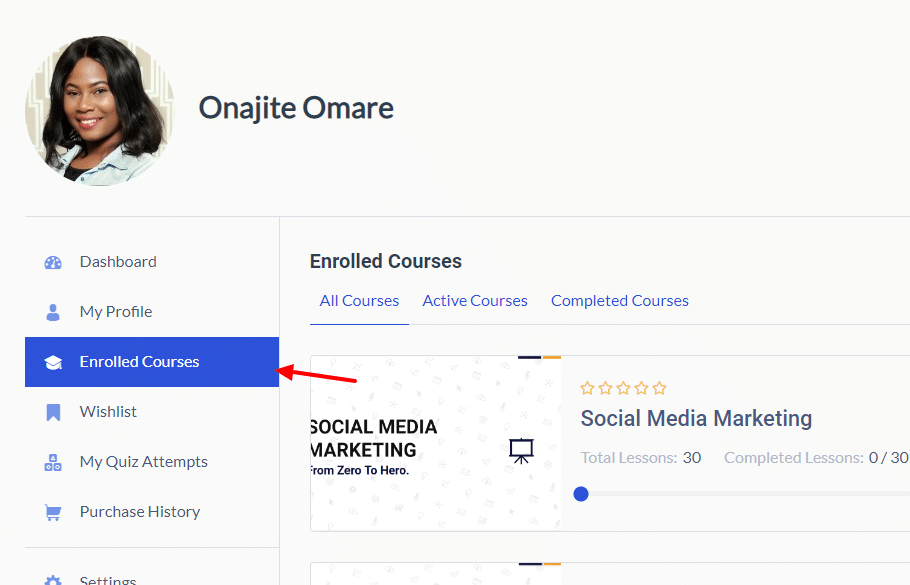 Who should take our Social Media Training?
You should take our social media training in Lagos and Nigeria if you are looking to pursue social media advertising, marketing or digital marketing as a career/job or an entrepreneur looking to grow your business online. We do well with: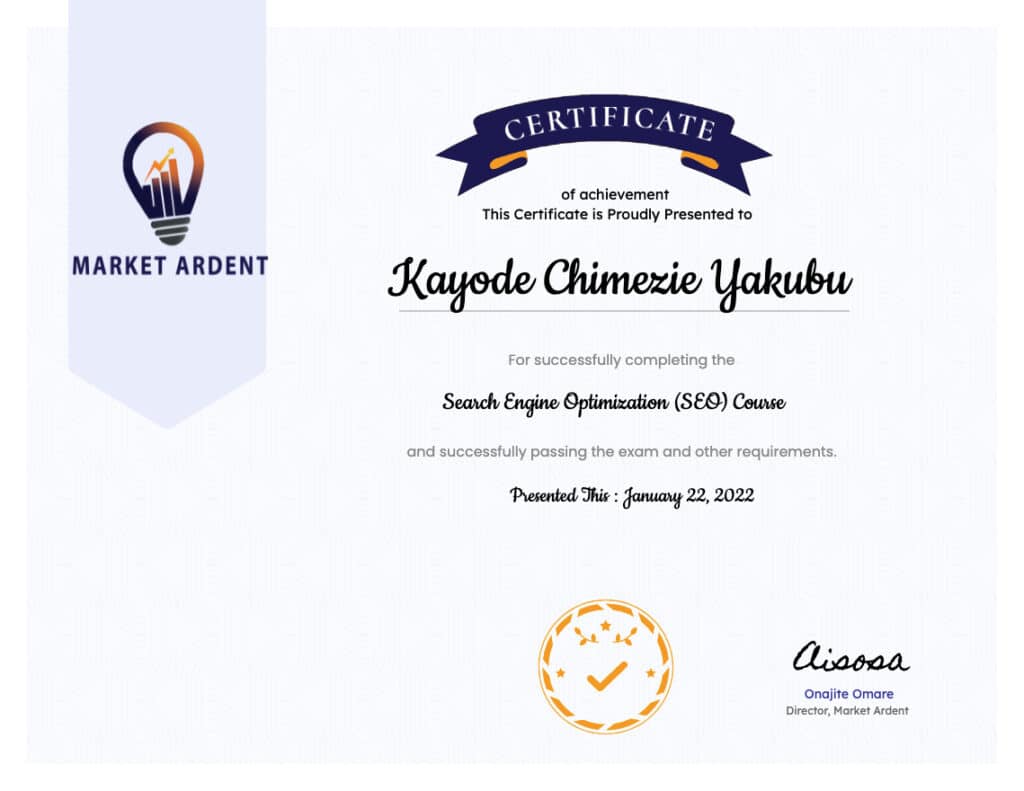 Learn Social Media Management & Get a Social Media Marketing Certificate
Get certified with our social media marketing course. All students are expected to take a test at the end of the social media training classes before being awarded a certificate.
As long as you listen attentively, read the guides and do what is in the lessons, the test should be easy. The pass mark is 70-80%.
When you get that, you will be given a recognised certificate to prove your knowledge to potential clients or employers.
Trusted By More Than 300 Students
I just finished the content writing course and honestly, it was great. I learnt so much.
It's was great experience learning how to create Google ads with you guys. I planned taking a course on SEO soon. Thanks for your assistance on the Google ads course.
Great courses, nice and professional support. I have taken the SEO, social media marketing, and Google Ads course. Love all three. Best explanation I have gotten from all the other courses I have tried.
I noticed an improvement on my website before the end of the SEO course. The course is easy to follow and they broke down technical issues into simple terminology. I enjoyed the course.
Our Other Digital Marketing Courses
We have other digital marketing training available online. You can go from not knowing anything in marketing to being advanced in the marketing training in these areas with us.
Frequently asked questions