Digital Marketing Training In Nigeria -
Get a skill & certification with our digital marketing courses
We are focused on delivering the best digital marketing training in Nigeria. With our online digital marketing courses, you master the skills that will help you earn more, not just in Nigeria but in the world. Become an expert with our digital marketing masterclass and training materials.
Our Popular Digital Marketing Courses in Nigeria
Although you can buy our digital marketing course as one bundle, we also separate them into online mini-courses for those who want to boost their earnings, increase their job prospects, and get a digital marketing skill in any area.
Special Offer - Sign Up at the Best Price​
What are the digital marketing areas in the bundle?
Save 20%. Get all the digital marketing training for only ₦151,500.00 ₦121,200
Why Should You Take Our Digital Marketing Training?
Earn More and Get Top Skills
Our digital marketing course gives you the skills and guidance to earn high, whether you want to work in Nigeria, be a freelancer on sites like Upwork, or get a full time remote job that pays in dollars, pounds or euros.
You can achieve your potential with this Nigeria digital marketing training. Taken by over 350 people in Nigeria, our students are top earners on Upwork, running their own successful businesses and more.
You don't need to even know anything in digital marketing before you get in, as long as you are willing to learn, we are here to help you.
Digital marketing is an in-demand area all over the world. The internet is here to stay and with that is digital marketing. Whether you want to work in Nigeria, remotely or in-house, or you want to work with a company abroad, remotely or in-house, you can with digital marketing skills.
Here's one of our success stories
She used the skills taught in our SEO and content writing courses to earn over $30,000 in a short time on Upwork and has earned even more than that from working as a full time remote employee for companies in the UK and Poland.
What You Can Do With Our Digital Marketing Training
Whether you want to start or grow a digital marketing career or get more customers for your business, having digital marketing skills will help you.
Whether you pick SEO or social media marketing, you can become a top paid freelancer that decides what they want to be paid and is paid that because they can prove it with actionable skills. We will guide you from start to finish.
There are so many opportunities in digital marketing now and you can get a job in Nigeria or abroad. You can get a full-time remote job, full-time in-house job, or even relocate to any country of your dreams with your skills.
Also, you can choose to work as a freelancer, on sites like Upwork, Fiverr or through getting clients from LinkedIn or pitching your services.
As a small business owner, you can save money on hiring a marketer and do the work with impact with our digital marketing courses. We will equip you with the skills to build long-term revenue and popularity for your business.
What to Expect From our Digital Marketing Course
When you enroll for our digital marketing, digital access to the digital marketing modules and course will be given to you. That means whether you are in Lagos, Enugu, Abuja, or any part of Nigeria, you can take the course online on your phone or laptop. We have recorded videos, created PDFs and text to enable you to learn easily.
After the lessons, you can take the test online to get a certificate. As long as you take the lessons in the digital marketing course seriously, you will scale through the test. Some courses have optional activities such as a task or project, which can contribute to your knowledge more than getting certified.
As you are learning digital marketing, you can get in touch with real digital marketing trainers in our institute. You can reach out through WhatsApp, phone, email, or live chat to ask questions. They will reply to you quickly. There's a Q&A section in the module as well. Become a digital marketing professional – sign up today.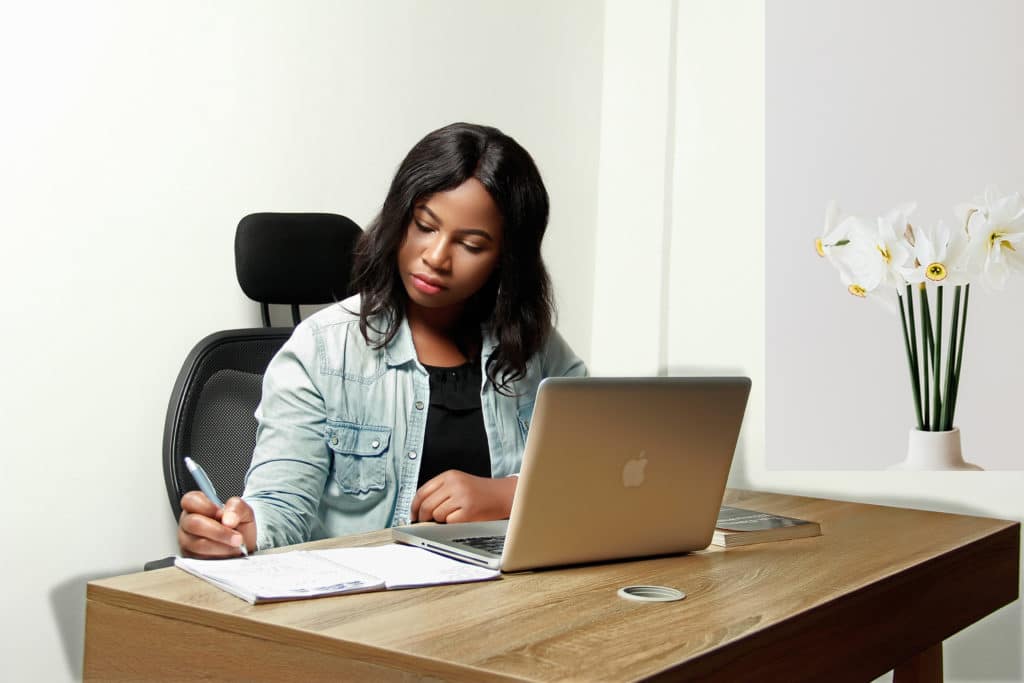 Who Should Take This Online Digital Marketing Training?
What You Will Learn From Our Digital Marketing Course
Digital Marketing Strategy
A digital marketing strategy is important to starting a digital marketing campaign and optimising such a campaign to ensure that you get conversion. Such conversions can be sales, leads (people interested in buying from you), or engagement (people who will like, share, or comment on your social media or website).
You will learn how to plan the goals and expectations of a digital marketing campaign, define how to achieve the goals, what you will do and when you will do it. You will recognise the ingredients for successful strategy building from our digital marketing training course so you become a digital marketing master.
Click here to sign up for the digital marketing training.
Social Media Marketing and Advertising
Do you know that there are millions of Nigerians on Google Ads, and many of them purchase goods and services on Instagram, Facebook, Twitter, LinkedIn, and even Tiktok?
As a result, business owners who can gain the right skills to get in front of that audience or individuals who have the skills to help businesses get in front of their audience can earn big.
Learn digital marketing to know how to do organic social media marketing (creating the right content) and do great advertising for a product or service on platforms such as Instagram and Facebook.
Click here to sign up for the social media course online.
Content Writing course
Content writing is one of the top areas in digital marketing. Many people want to be writers, and there are many areas, whether it's grant writing, blog writing, page writing, video scriptwriting, CV writing or ad copywriting.
Each of those areas has opportunities that ensure you get a space to earn not just in naira but also in dollars and other foreign currency.
Businesses all over the world will not stop needing content today or tomorrow. So, learn how to write content that connects with the readers and make them take action from our content marketing course training. Click here to enrol for our content marketing course
Duration of Online Training
In Total, expect about 50 hours of learning. On the high side, the SEO course alone is about 20 hours while on the low side, the content writing course alone is about 3 hours.
Managing a Digital Marketing Programme
Knowing the tools and strategy is not enough; you must know what to do so you use your digital marketing budget for the best results. We teach you what to do and how to do it in our digital marketing training. Every step needed to start, manage, and optimise a digital marketing campaign for success is taught.
Whether you picked a course to learn how to do digital marketing on a website or social media, a digital marketing specialist can support you to achieve your goals.
Search Engine Optimization
SEO is a top digital marketing area. Due to its potential to bring a lot of customers in the long run, many companies take it seriously, and you can earn recurring income like a business, employee or freelancer.
Our Search Engine Optimization training covers optimising a website for speed and user experience, even if you have no website or code experience. It also covers optimising the content and building links, so a website's page shows on the top of Google Search results. Click here to sign up.
Google Ads Management
Most small businesses are likely to have a short-term budget for a Google Ads campaign. Also, many large businesses are willing to spend thousands of dollars on Google Ads. You can tap into that market, sell your services or work in-house as a search engine marketing expert.
Our digital marketing institute will teach you how to create and optimise a Google Ad. Many people waste money on Google ads without results; don't be one of them. Take our Google ads course today.
Digital Marketing Tools
Digital marketing tools are important to success when working, whether you do Google ads marketing, social media, or SEO. For example, if you are doing Search Engine Optimization, you will need a tool that will give you data on keywords, insights on what to optimise, data into what your competitors are doing, and tracking the results or analytics of the actions you take.
However, most of the top tools are expensive, especially for Nigerians. We will give you discounted access to some tools and tell you which ones are great and not expensive. That way, you can carry on campaigns without issues.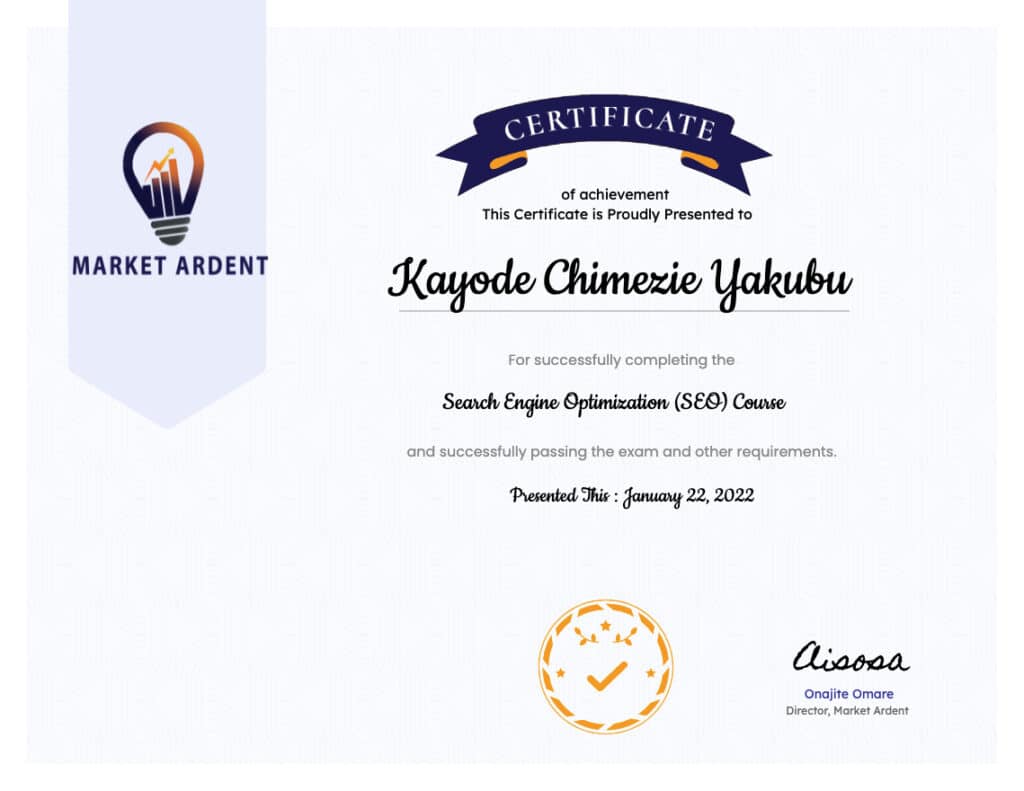 All our courses come with a certificate if you score at least 70% or 80% in the tests. We have structured our courses in a way that helps you understand the lessons and easy to access support, so you are able to earn a certificate at the end of the course.
Having a certificate will look well with your CV,  applications, or LinkedIn profile. It is a boost that process you were actually trained in digital marketing, so you can advance your career. Enrol to get started with getting a digital marketing certificate.
Trusted By More Than 300 Students
I just finished the content writing course and honestly, it was great. I learnt so much.
It's was great experience learning how to create Google ads with you guys. I planned taking a course on SEO soon. Thanks for your assistance on the Google ads course.
Great courses, nice and professional support. I have taken the SEO, social media marketing, and Google Ads course. Love all three. Best explanation I have gotten from all the other courses I have tried.
I noticed an improvement on my website before the end of the SEO course. The course is easy to follow and they broke down technical issues into simple terminology. I enjoyed the course.
Frequently asked questions