Learn SEO in Nigeria with our SEO Training Course
Increase your earning potential by taking our Search Engine Optimization (SEO) training in Nigeria. With our SEO course, you will learn all aspects of this highly paid skill.
Key areas of our SEO Training
Our Search Engine Optimization (SEO) training course in Nigeria contains all you need to know to become a knowledgeable SEO specialist. We train you on all the elements of SEO, from optimising pages for speed to content for Google search results.
What is Search Engine Optimization?
Search Engine Optimization (SEO) means taking actions on a website so that the website shows up when people search for related products or services on Google, Bing, or other search engines.
For example, if you sell iPhones and do SEO on your website for iPhones. If someone searches for "buy iPhone in Nigeria", your website will show up on the search results.
When SEO is done well, a website can show up as number one on search engine result pages, leading to an increase in leads and sales in the long term.
Yes, SEO is long-term because if you can achieve the number one position today, you can hold on to it for as long as your competitors don't do strong SEO. Even if they do, you can still retain your number one position if you know the right tactics to use.
Because of the profitability of SEO, many businesses all over the world invest thousands of dollars monthly.
As a Nigerian, you can profit from that either by learning SEO to provide international and/or local SEO services to businesses all over the world  as an agency or freelancer or do it for your business to grow traffic or sales.
One good thing about doing SEO in Nigeria is that most of your competitors haven't caught on, but your customers have, so you can profit a lot.
Not to mention, despite a good number of companies offering SEO services in Nigeria, many of them don't know how to do SEO properly or do SEO with old 2000s tactics that no longer work. With our SEO course, you know the up-to-date tactics and can offer a better service.
How much can you make from SEO?
Freelancers and entrepreneurs make a lot from SEO. In Nigeria, you can get a monthly retainer from each business for NGN200,000. From companies abroad, you can get an average of $5,000 monthly. This is not just talks; look at the screenshot below of a Nigerian making five figures in dollars on Upwork by offering SEO services.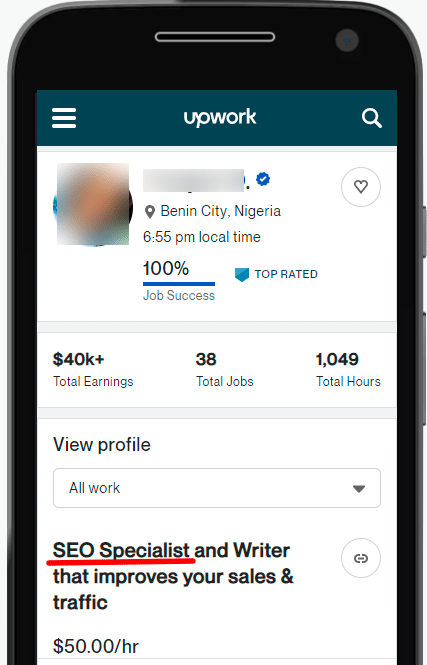 What is covered in our SEO Training in Nigeria?
This Nigeria's top SEO training course covers every aspect of SEO and is regularly updated to include anything new that search engines like Google come up with. We take you from being a newbie to being an SEO knowledge expert. Our lessons include:
Special Offer - Sign Up at the Best Price​
Enrol now at an affordable price on the complete SEO course in Nigeria.
How does our SEO Course in Nigeria work?
Our SEO course is easy to follow. When you enrol, you will get instant access to the online course. You can access it from your dashboard by clicking on "login" on our website. The details will also be sent to your email.
In your dashboard, you will see "enrolled courses", click on that to access the course. The course is arranged in modules with different lessons in each module. The lessons come with pre-recorded videos, texts, PDFs, Google docs, and spreadsheets to ensures you understand all aspects of the course.
We also have a question and answer (Q&A) section, live chat, WhatsApp access, call access and email to ensure you can ask the instructor for help at any time.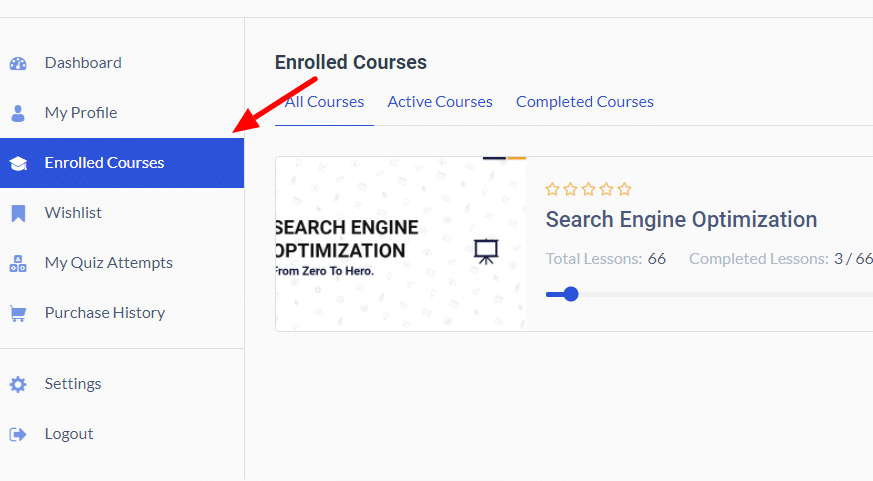 Who should take our Online SEO course in Nigeria?
You should take our SEO course if you are looking to pursue SEO or digital marketing as a career or if you are an entrepreneur looking to grow your business.
Whether you are new to search engine optimisation or you know a little but want to become an advanced SEO specialist, there is enough for you. Our SEO course in Nigeria covers it all.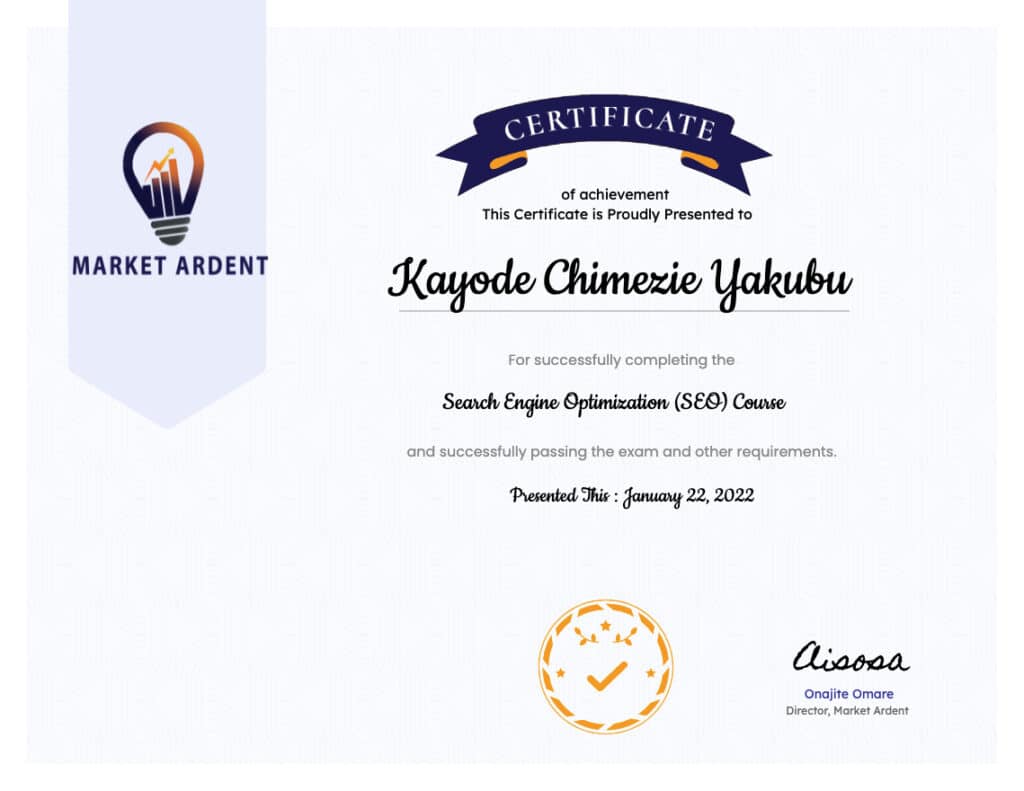 SEO Training in Nigeria with an SEO Certificate
Get certified with our SEO course. Every person is expected to take a test at the end of the SEO course before being awarded a certificate.
As long as you listen attentively, read the guides and do what is in the lessons, the test should be a breeze. The pass mark is 70%.
 When you get that, you will be given a recognised certificate to prove your knowledge to potential clients or employers.
Trusted By More Than 300 Students
I just finished the content writing course and honestly, it was great. I learnt so much.
It's was great experience learning how to create Google ads with you guys. I planned taking a course on SEO soon. Thanks for your assistance on the Google ads course.
Great courses, nice and professional support. I have taken the SEO, social media marketing, and Google Ads course. Love all three. Best explanation I have gotten from all the other courses I have tried.
I noticed an improvement on my website before the end of the SEO course. The course is easy to follow and they broke down technical issues into simple terminology. I enjoyed the course.
Before Google can produce results on a search, they need to "crawl" pages on the internet, understand the information on those pages, and store that in their server or index so that when someone searches, they can provide the right results in seconds.
When Google is doing that crawl, it takes note of what your page is about. For Google to understand a page, you need to include certain information, and that's where SEO comes in.
From technical SEO to link building, every aspect of SEO aims to make sure Google understands your website and thinks your website has the best answer or offer to a user searching on Google search.
You don't pay Google to get such results, unlike what you have to do with Google ads. Rather, you put the work in, and that's what we teach in our SEO course in Nigeria.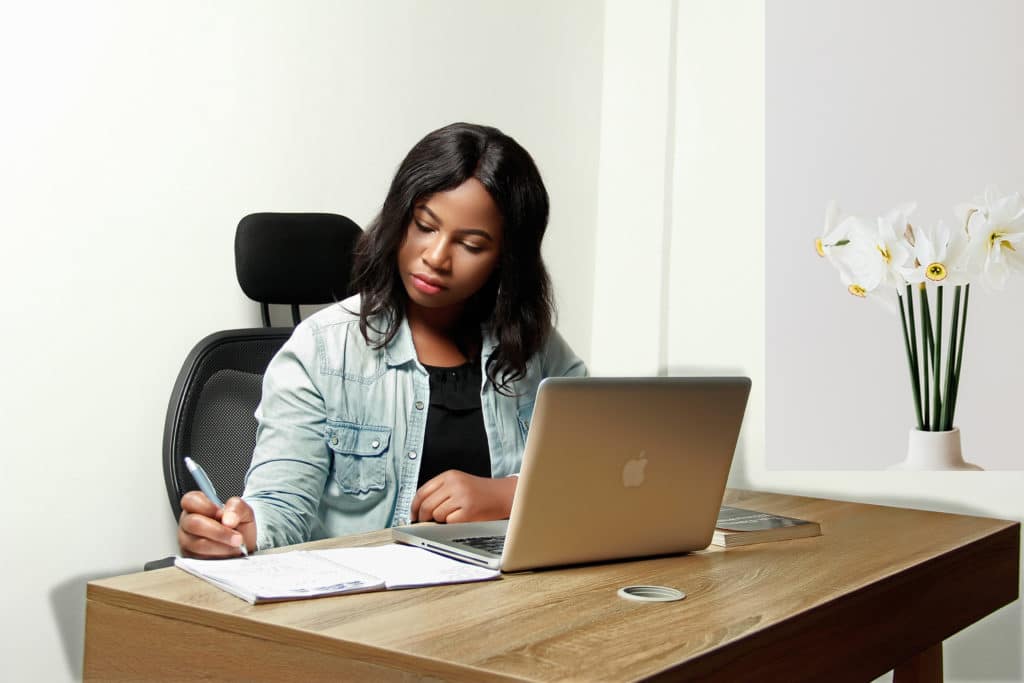 SEO Course Terms Discussed
What is structured data?
Have you ever seen review stars or recipes like the one below on Google before?
That is as a result of structured data. You can also create such beautiful entries or "featured snippets" or "rich snippets" on Google for other things, such as products, courses, services, local business and more. We teach how to do it in Google.
Google and its concern with speed
One thing Google is particular about is providing the best experience to those who are searching, which means your website must be the best in terms of content and user experience. User experience includes speed. So, if a website takes too long to load, it's not a good sign. 
Many factors affect website speed, but we teach how to improve a website's speed and even more technical things like core web vitals in our SEO course. Even if you had never heard of these terms before or touched a website before, our SEO course will turn you into an expert in no time.
What are keywords?
Keywords are terms that people search with on Google. Don't confuse the use of "word" to think it's one word all the time. It can be phrases, and these days, it likely is.
Someone is more likely to search for "SEO course in Nigeria" than SEO if they are looking for a course. However, you may think SEO or SEO training is better. Knowing what keywords people are searching with will help you know what to focus on when optimising a page, so you get results as quickly as quality allows.
What is GMB?
GMB stands for Google My Business. If you have seen a business have this on Google, it can be as a result of setting it up in GMB or Google Maps. This is great for optimising local search, for example, "SEO course in Lagos".
Google changes its setting frequently, and GMB is now for large businesses and those managing large profiles, while small businesses can manage their profile from Google maps. Nevertheless, the tactics remain the same. 
What is Google Search Console?
Google Search Console (GSC) is a platform owned by Google that allows you to manage your website as regards Google search. It helps you see if Google has a problem with reading or indexing your site or if your site is violating a rule or failing in any area.
GSC also helps you see your site's performance on Google search; how many clicks are coming in, how many impressions are coming in, and so on. Along with Google Analytics, you have some nice tools to help you see if your tactics are working and some things to improve.
What is PageSpeed Insights?
PageSpeed Insights is a tool that allows SEOs to find issues on websites as it relates to speed, usability, and the interactivity of a website. With this tool, you find out technical issues of a website so you can fix them and, possibly, rank higher.
Our Other Digital Marketing Courses
We have other digital marketing training available online. You can go from not knowing anything in marketing to being advanced in the marketing training in these areas with us.
Frequently asked questions